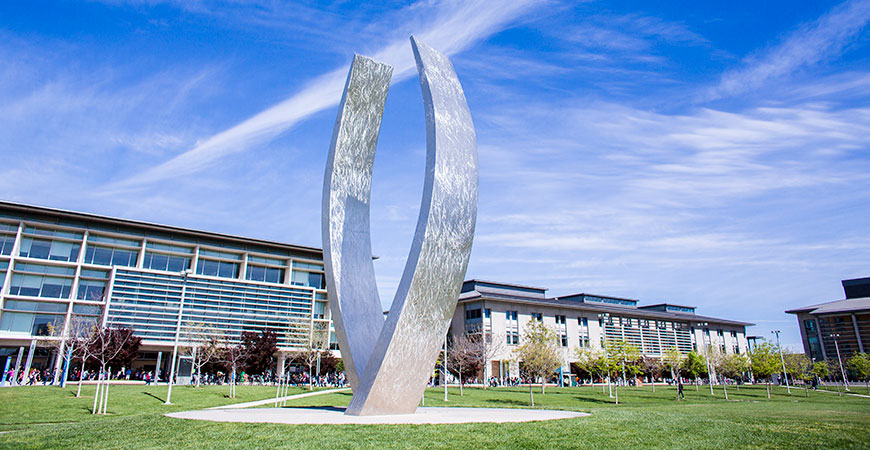 Six faculty members have been named this year's Hellman Fellows — two from each of UC Merced's schools.
The 2019-20 winners are:
• Professor Anna E. Beaudin, Department of Molecular and Cell Biology, School of Natural Sciences;
• Professor Chih-Wen Ni, Department of Bioengineering, School of Engineering;
• Professor Paul E. Smaldino; Department of Cognitive and Information Sciences, School of Social Sciences, Humanities and Arts;
• Professor Alexander M. Petersen, Department of Management of Complex Systems, School of Engineering;
• Professor Liang Shi, Department of Chemistry and Chemical Biology, School of Natural Sciences; and
• Professor Ma Vang, Department of History & Critical Race and Ethnic Studies, School of Social Sciences, Humanities and Arts
"I am very grateful to the support from the Hellman Fellows Fund," Shi said. "The generosity will allow my group to work on a new research direction and generate preliminary results, which are critical to securing extramural grants these days."
The Hellman Fellows Fund, established by Chris and Warren Hellman in 1995, supports early career funding for junior faculty at all 10 UC campuses, as well as four private institutions. The Hellman Fellows program has supported more than 1,700 junior faculty members since its inception.
Each fellowship varies in size, but the flexible funding can be spent as needed for research, including equipment, travel, research assistants or other needs.
This year's fellowships support range of projects including:
• Beaudin's examination of how maternal infection during pregnancy affects lifelong immunity from hematopoietic stem cells;
• Ni's work on development of a virus-free method for gene delivery;
• Petersen's data analysis of the evolution of large multiscale socio-economic systems;
• Shi's work on understanding the interfaces in photovoltaic materials;
• Smaldino's project entitled "The Evolution of Identity: The Roles of Culture and Context;" and
• Vang's project on refugee care and the stories that bridge community and institutions
"This award supports a high-risk, high-payout project — it's very exciting work I wouldn't otherwise have the opportunity to do at this stage of my career," Beaudin said.
"We have had the opportunity to meet with hundreds of Hellman Fellows over the years, including many Hellman Fellows from UC Merced, and to listen to their discoveries, and the great potential in their work continues to impress and amaze us year after year," said Frances Hellman, president of the Hellman Fellows Fund. "My father, Warren Hellman, used to always say, 'Creating the Hellman Fellows Program is one of the best things our family has ever done with our giving.'"
"This year's Hellman awardees represent two of SSHA's finest young scholars. Professors Vang and Smaldino are known for teaching and research that engages students and is recognized locally and nationally," interim SSHA Dean Jeffrey Gilger said. "As with prior Hellman recipients on campus, this award will support these two as they embark on work that addresses important issues relevant to who we are as humans, our experiences and our places in society."
Each of the schools' deans said they are happy to see young faculty members being encouraged by these kinds of honors.
"Our school is proud of the people we have been able to recruit in recent years and is pleased that our young faculty members are being recognized for their forward-thinking research through this fellowship," School of Engineering Dean Mark Matsumoto said.
"The School of Natural Sciences is thrilled to see professors Beaudin and Shi receive this award," Dean Betsy Dumont said. "Each of them have built robust, creative, and impactful research programs and this support gives them the freedom to explore their ideas and see where it takes them."