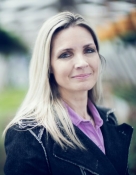 Professional Title:
Associate Professor, Department of Management of Complex Systems
Research Interests:
Professor Catherine Keske studies human decision making in coupled natural human systems and complex environments involving food, agriculture, energy, and the environment.  An applied economist, she works to find economically feasible solutions for sustainable food production and waste management through novel technological advancements and processes, such as biochar and anaerobic digestion.  Often times her research is conducted in mountainous environments, in ecosystems with harsh environmental conditions, or within underserved communities.  
Professor Keske is a member of several multi-disciplinary research teams funded by the state of California Strategic Growth Council to study environmental management practices to mitigate climate change.   
Professor Keske researches food security, food sovereignty, and sense of place in the U.S. and Canada, and beyond North America.  She is currently measuring disruptions to domestic and international food systems by food produced California's Central Valley.  She is also researching how food security, food sovereignty, and sense of place influence food decisions among university students.
Bio:
Department: Management of Complex Systems